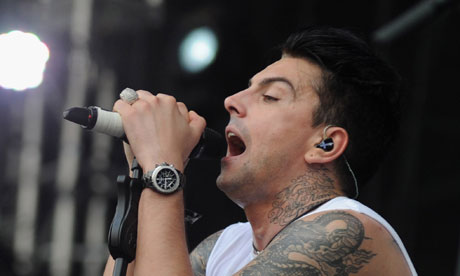 The lead singer of the rock band Lostprophets has pleaded guilty to multiple child sex offenses, including the attempted rape of a baby.
Ian Watkins pleaded guilty to the "depraved" sex charges in Cardiff Crown Court in Wales on Tuesday, Nov. 26, the BBC reported. He admitted to the attempted rape and sexual assault of a child under 13 years old, "three counts of sexual assault involving children and six involving taking, making or possessing indecent images of children and one of possessing an extreme pornographic image involving a sex act on an animal."
Alongside Watkins, two female co-defendants pleaded guilty to various sex offenses against their own children, the South Wales Evening Post reported. He admitted to attempting to rape the 11-month-old baby boy of one of the co-defendants and conspiring to rape the baby girl of the other.
"Ian Watkins was the lead singer of a successful band, The Lostprophets," prosecutor Christopher Clee said, per Wales Online. "He also, by virtue of his plea, accepts he is a determined and committed pedophile. He has engaged in serious sexual offenses against two babies belonging to the female defendants in this case. Not only has he done so but he recorded and kept episodes of this abuse which were recovered by the police."
"This investigation has uncovered the most shocking and harrowing child abuse evidence I have ever seen," DCI Peter Doyle, with the South Wales Police, told reporters outside the court. "There is no doubt in my mind that Ian Watkins exploited his celebrity status in order to abuse young children."
The 36-year-old singer previously denied the 24 charges against him, according to the U.K.'s Daily Star. His trial was slated to drag out for three weeks. He and the two women faced a total of 32 charges.
Lostprophets formed in 1997 and went on to sell 3.5 million albums over the group's 15-year career. Watkins was charged with the child sex offenses almost a year ago. In October, the group disbanded.
"After nearly a year of coming to terms with our heartache, we finally feel ready to announce publicly what we have thought privately for some time," the band said in a statement obtained by The Associated Press. "We can no longer continue making or performing music as Lostprophets."