Lady Gaga pregnant rumors have been spreading like crazy this week after Mother Monster stepped out in New York City wearing a tight red sequin dress that accentuated a maybe-baby bump. According to the Daily Star, Gaga not only looked like she could be expecting her first child, but she also acted like it, as she seemed to place her hand gently on her tummy from time to time.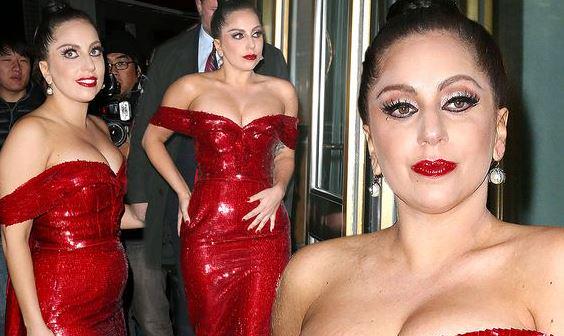 "Although she has yet to confirm if congratulations are in order, Gaga did appear to be sending an indication of impending motherhood as she placed a protective hand on her tummy," reports the Daily Star.
Well, while Lady Gaga may have looked pregnant, Gossip Cop confirmed that she is not pregnant. A rep for the singer explained that the rumors are simply "not true." Despite several media outlets reporting that Gaga had some exciting news to share, it appears as though she has just put on a spot of weight, or perhaps, her dress accentuated her stomach in a non-flattering way.
Gaga's weight has fluctuated from time to time, and this certainly isn't the first time that pregnancy rumors have followed her around after a night out on the town. As previously reported by the Inquisitr, Gaga showed a fuller figure back in 2012, and people started talking babies back then, too. However, the Bad Romance singer blamed her weight gain on eating out. Apparently she had been spending way too much time at her dad's restaurant in the Big Apple.
"I love eating pasta and pizza. I'm a New York Italian girl. That's why I have been staying out of New York. My father opened a restaurant. It's so amazing. It's so freaking delicious, but I'm telling you I gain five pounds every time I go in there."
If Lady Gaga was pregnant, there would be a super good chance that her beau, Taylor Kinney, was the baby's dad. In a new interview, Gaga opened up about her relationship with the Chicago Fire actor, and just how spectacular it is.
"I have that feeling with him. I just know it. I can't really imagine being with anyone other than who I'm with right now. What I do feed off is my ability to be able to have an intelligent conversation with him about how it feels to be a creative person because a lot of people don't always understand you. They think you're weird," Gaga told Howard Stern (via the Christian Post)