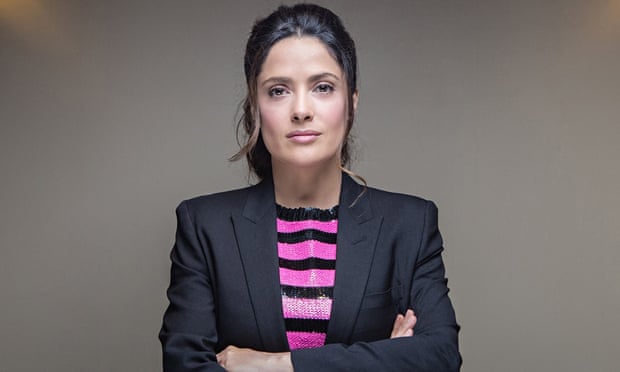 Salma Hayek: 'They said I wouldn't be working after 35! Ha.' Photograph: Fabrizio Maltese/Contour by Getty Images
U
nsisterly though it sounds, I didn't expect to like
Salma Hayek
very much. Because we both go to a lot of catwalk shows, I see her all the time: I'm there as a reporter, and she's there because her husband Francois-Henri Pinault is the CEO of Kering, the luxury group that owns Gucci, Saint Laurent, Stella McCartney, Alexander McQueen and Bottega Veneta, among others. There, she rocks a kind of boss's wife vibe, dressed to the nines in the designer's clothes. Or at least that's how it had always come across to me. And I'd watched her new film, an animation of Kahlil Gibran's The Prophet, aimed at families: a "passion project" that is charming, beautifully crafted, impeccably well-intentioned – but, nonetheless, could perhaps do with wearing its learning a little more lightly.
Expecting grandeur, I am a little taken aback to arrive at the Park Cafe, appointed by Hayek's people for our interview, to find it isn't an ironically named smart restaurant, as I had assumed. It's the kind of cafe where you queue with a plastic tray, next to a noticeboard of flyers for Monkey Music and community gardening projects, for a polystyrene cup of PG Tips with the teabag left in. It's not quite somewhere I can picture Hayek – Oscar nominee, billionaire's wife, Hollywood bombshell – hanging out, so I wait outside. Sure enough, when she arrives – tiny, radiant, swathed in cashmere, flanked by a bodyguard and an assistant who is being dragged along by Hayek's golden labrador, Lolita – it turns out this isn't the place she had in mind. But she'll show me the way, she says, leading me in the direction of a restaurant elsewhere in west London's Holland Park, chatting merrily about nothing in particular – the weather, Milan fashion week, how she needs a coffee.
The Belvedere Restaurant is quiet and serene, with white tablecloths and stem vases on the tables. But it is mid-afternoon, and the place is just about to close, the cloakroom attendant explains. Hayek asks very nicely: could we perhaps just have a coffee? But the attendant, who doesn't recognise her, politely shows us the door. Hayek seems quite relaxed – it's a nice day for a walk in the park, she says.
Well, yes, except there is a howling wind that means I won't able to record our conversation, and it's too chilly to sit outdoors, so I duck back into the restaurant, find the manager, and explain that Hayek is a
huge
movie star. He looks past me, out of the window, and sees her just as she tips her perfect profile upwards to the early spring sunshine like a leading lady finding her spotlight. Immediately he ushers us to a table by the leaded windows overlooking the park. On International Women's Day, Hayek will present the UK premiere of The Prophet as part of Southbank Centre's
Women
of the World festival. Hayek sees the message of the book as particularly important to women, because it is "about the courage to speak up, to believe you are worth being listened to," she says. Gibran's classic has sold over 100m copies worldwide, in 50 languages, since it was first published in 1923. "And yet it has never had publicity. It's been read by generation after generation without ever really having fame. It's not a religious book, it's poetic and philosophical. It's a book written by an Arabic man, which unites all religions. That itself I think is important."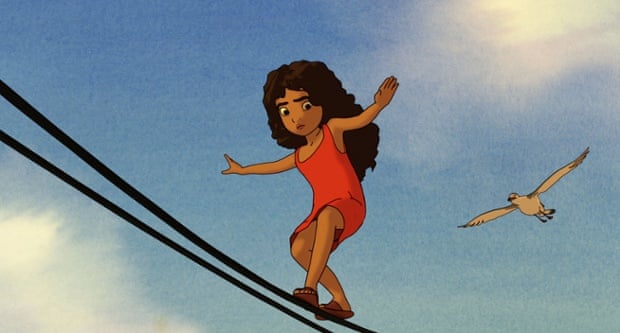 Hayek was a late bloomer, personally and professionally. She became a mother at 41 and married 18 months later. She was born into an affluent, cultured Mexican family, with Lebanese ancestry. Her father was an oil executive who once ran for mayor of their port city of Coatzacoalcos, her mother an opera singer who funded a music programme for less well-off children. At 25, already a television star in Mexico, Hayek moved to Hollywood, only to find that "no one would hire me". She told Vanity Fair, a decade later: "I had studio heads say to me, 'You could have been the biggest star in America, but you were born in the wrong country. You can never be a leading lady, because we can't take the risk of you opening your mouth and people thinking of their maids.'" Alfred Molina, who played Diego Rivera to Hayek's Frida Kahlo in the 2002 biopic she produced and which earned Hayek her Oscar, Golden Globe and Bafta acting nominations, said that "If Salma were white and male, she'd be bigger than Harvey Weinstein." Weinstein himself called her, admiringly, "a ball-breaker".
Frida, which Hayek spent eight years getting made, changed perceptions yet failed to bring on the meaty roles she might have hoped for. Since, she has executive-produced the award-winning Ugly Betty TV series, taken some comedy roles in Adam Sandler movies, and voiced Kitty Softpaws in Puss in Boots.