Miley Cyrus sure loves her grandma! The "Wrecking Ball" songbird adores her "Mammie" (aka Loretta Finley) so much that she had her face tattooed onto her right forearm on Tuesday afternoon.
Naturally, Miley kept fans looped in on her latest ink, which was done by "L.A. Ink" star
Kat Von D
, and posted pics to her social media accounts with proof of the long process.
In the images, Kat Von D can be seen using a vintage photograph of Miley's Mammie to replicate her likeness into a black and white tattoo. It looks like it took three different shading techniques to get the tattoo perfect, but the finished product is nearly identical to the photograph. Von D posted the photo of the three-step process with the caption, "Grandma's rule" and also gushed about how much she loved tattooing Cyrus.
Miley returned the favor by thanking Von D on Twitter and saying she was " the s--t."
The "We Can't Stop" singer can't seem to stop adding ink to her bod, and has turned to Von D several times before for her body art. She has two arrows on her elbow, a Leonardo DaVinci-inspired anatomical heart, and a curved animal tooth, which she got on her arm in August. This latest brings the former "Hannah Montana" star's tattoo count up to at least 21.
But why did Miley Cyrus get her grandma's face tattooed on her arm, you ask? According to Miley's Twitter, she chose the new tribute tat because she and her grams have a really tight bond.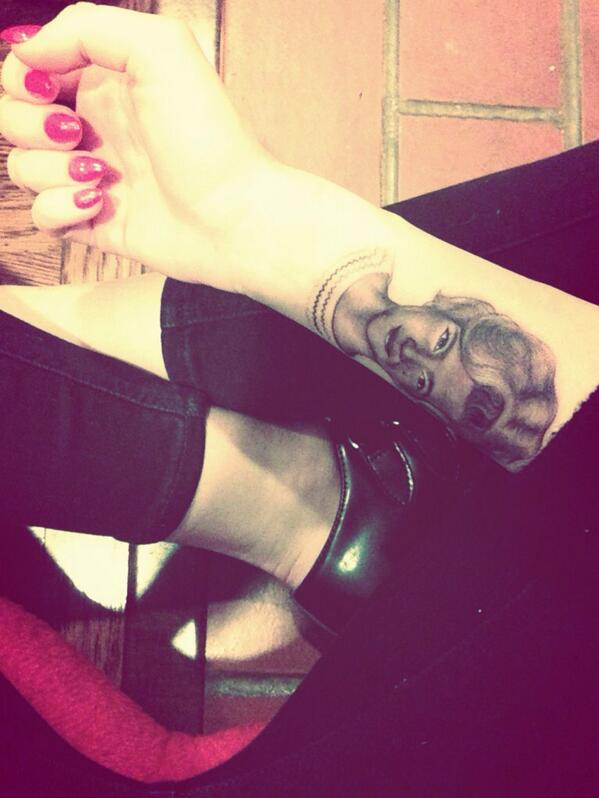 Later, Miley posted lyrics to Roy Orbison's "All I Have To Do Is Dream" and also posted a shot of her and her grandmother with the caption, "Still just as beautiful. @thekatvond look who left the house today :) happy birthday Mammie."
Mammie, who is Miley's maternal grandmother, has also been Miley's longtime fan club manager and regularly tours with the pop star and her mom, Tish.
Cyrus, who is only 17 days shy of her 21st birthday, is quickly filling up the bare skin on her body. Perhaps Mammie's portrait is the start of a full sleeve of family tattoos?