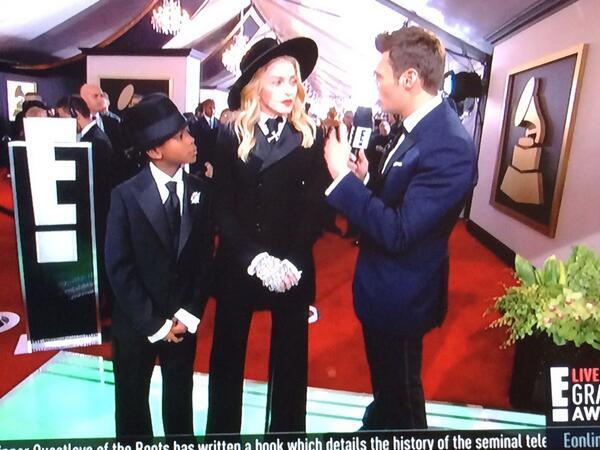 Not impressed by Madonna's Grammy look? Blame her boy.
The Material Mom and son David worked the red carpet in matching Ralph Lauren outfits.
"For this look, I followed his lead. He dressed me tonight," the pop star said. "He wanted me to dress like him, so I obeyed him."
"Yes, I did," David said about playing stylist.
The two wore black tuxedo jackets, black pants, white shirts and black ties — and topped the look with broad-brimmed hats. Madonna accessorized with a cane (due to a lingering dance injury), sparkly fingerless gloves, "me" ring… and a gold grill.
"Yeah, I'm grillin'," she said. "It pisses everybody off when I wear my grill, so that's why I wear it." That Madge, always the rebel...
She did spill some of her grillin' secrets. Madonna wears the tooth bling "when it matches my outfit. When I don't have to eat. Actually, I've learned to eat with my grill in."
Her mini-me has taken notice. "She said she'd get me grills for this birthday," David added.
Then Madonna got all mom: "We haven't had time yet to go to the dentist and get some molds made," she reminded him.
Although the Internet gave points to the duo, calling the twins "adorable," on Twitter, the majority opinion seemed to trend in the other direction.